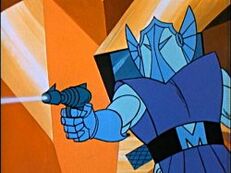 A villain and member of the Council of Doom who can only talk in a reverb-heavy metallic drone, rendering his every word incomprehensible, though other characters seem to understand him. He is a big metal guy with a blue vest and gloves, and he has a helmet with a large, presumably ornamental "wings". Since he can't talk normally, his personality isn't developed all that much.
Ad blocker interference detected!
Wikia is a free-to-use site that makes money from advertising. We have a modified experience for viewers using ad blockers

Wikia is not accessible if you've made further modifications. Remove the custom ad blocker rule(s) and the page will load as expected.